Rather than defer to a time when we could gather in person, my local church participated in a visioning process entirely via virtual technology (Zoom and Document Collaboration), and I thought I would share the details for your church or ministry context to consider.
The right time to do Visioning
A time of social distancing requirements and winter weather might be barriers to a healthy Visioning Retreat. But given the right framing, they can lead to something new for your congregation.
Victoria Sun Esparza, a member of the Liberation Project (featured here), owns a design company in Texas (hire her for your project!). She recently spoke at an online course at H&Co in her capacity as a theologically-trained designer.
I was struck by her belief that a pandemic can be the right time to do visioning work. She gave three reasons that come from the designing process. From my notes:
Design Constraints lead to creativity. In creative work, putting a limitation causes more creativity. Using only a certain artistic technique or medium is the same type of limitation as unchangeable constraints like budget, location, or…a pandemic! So a virtual visioning session without some variables allows folks to be creative. As a twitter user that can't go over the word count, I can attest to the value of a creative constraint!
Iteration allows for risk. In "normal times," changing anything about worship would require months of permissions and conversations. But in a pandemic, worship had to shift very quickly (in my local church, we shifted in three days!). Online, outside, some "COVID-safer" forms of ministry lower the risk to try something new, or to incrementally change things each week, which allows for more creativity and boldness to try new things.
Shifting "the way we've always done things" reveals biases. Bias is what you like and what you prefer, shaped by your religion, your family of origin, your school, etc. A prejudice is a bias that is antagonistic towards a people group, but a bias itself isn't necessarily bad: it just needs to be known and named. So by shifting the way how a ministry's traditions and "ways we've always done things" happen, it reveals that some of those "traditions" are actually biases that can become conversations. It doesn't mean they get thrown away necessarily, just that they are examined!
Filmmaker Orson Welles once said, "The enemy of art is the absence of limitations." It would seem a pandemic's restrictions on gatherings fits that limitation requirement for creative art, if we embrace the limitations rather than simply lament them.
Limitations to overcome for Visioning
So that's the theory…but what about the practice? It would seem the barriers are high against a good Visioning retreat, as the best visioning retreats I've been on have three common features:
Small group hands-on work with everyone pitching in.
Compilation across small groups through group reporting and sharing to build synergy to common-held goals.
Space for the outlier ideas and individuals to build acceptance and niche support.
But all three of these find challenges during COVID-19.
Having everyone in a big Zoom room (or even multiple zoom meetings with multiple links) has too many distractions or technical barriers to be effective use of time. It's hard to have sidebar conversations in a big zoom room!
If small groups meet at different times or in different zoom meetings, really hard to report back and share that common synergy. It needs to be simultaneous to be effective and to catch the spirit.
There are so many levels of steps for outlier ideas to get cut or ignored: from a loud zoom room to disappearing chats to the tendency of higher-ups to stifle conversation, it can be even more difficult for outlier ideas to find footing.
However, my local church participated in a Visioning Retreat that seemed to bring forward at least some of these experiences and ended up with a satisfying retreat. Here's how we did it.
#1 – Zoom Breakout Rooms for Visioning
By far the most effective method for visioning is to have one zoom room, one zoom link, that uses Breakout Rooms to divide up the folks. Breakout rooms allow you to divide a large group into a few smaller groups that each essentially have their own private "zoom" but do not actually leave the larger group. Here's the FAQ on it from Zoom, you can read how to use them there, and you might need to enable them first.
When dividing people into groups, it allows the host (you!) to decide who goes where, and since they don't have to actually do anything other than click "okay," it isn't a new technical barrier for people. The host can divide a room with an eye towards diversity and buddy-up folks who are newer or less connected. Those small groups can accomplish the "hands on" work, and a smaller group means that it is easier for quieter people to participate.
Finally, consider using "mutual invitation" for conversation, and have a moderator or leader that is skilled or trained at facilitation to draw out the best possible conversation and common work. This invitation allows the whole room to participate, and outlier ideas to be shared, potentially finding resonance with other people in the group or another group.
But if all those groups are meeting at the same time, and the host can't be in all of them, how do you get to the synergy of reporting out?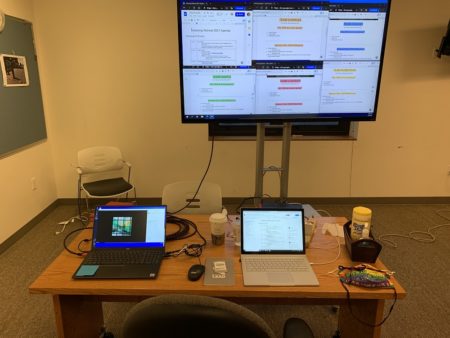 #2 – Collaborative Documents for Visioning
The keys for synergy across groups and finding both common goals and shared outliers are collaborative documents. My local church used longtime standard Google Docs (I mean, I was using Writely before Google bought it in 2006 and turned it into Google docs), but any shared document service would do.
The practice looks like that each group had a volunteer serve as a reporter. That reporter had access to a collaborative document like Google Docs that the retreat leadership also had access to.
During the small group sessions, the retreat leaders could follow along with the small group conversations via the notes, either because they also had permission to view OR like the above photo, I threw them all up on one big screen then shared that screen with those retreat leaders in the main room of the Zoom.
During the sessions, it was like we were listening into the corner booth of a diner, but multiple ones all at once. We could follow along the conversation, draw out similar responses to standard questions, highlight really interesting ideas, and do compilations live. It's important to have diverse retreat leadership because we saw different things and angles.
Then for the total group times, the retreat leaders were able to name what they saw, provide access to the notes to other small group leaders, and trace lines of convergence of energy. It allowed us to adapt the following sessions that day with that synergy.
These two tools of breakout rooms and live collaborations allowed us to replicate critical aspects of an in-person retreat. It's not a substitute, but it does allow for a creative experience of the Spirit.
#3 – Sample Agenda for a 3 Hour Retreat
Finally, the worst part of zoom is the time spent in front of a computer feels longer: an hour in front of zoom feels like 2 hours in person. So a usual full-day retreat with plenty of leisurely visioning work would not work if done for 8 hours virtually. So we condensed ours into 3 hours, which definitely felt tight, but it was doable. Here's the timeline, starting at Noon as an example.
| | |
| --- | --- |
| (30 minutes prior to start) | Tech Open for leaders to test connections, collaborative documents, and run through the day. |
| 12:00 | Large Group: Welcome, devotional, logistics, conversation guidelines, intro first topic, division into small groups |
| 12:20 | Small-Group: Introductions, the reporter uses shared doc for notes, discuss the first topic. |
| 12:55 | Large Group: Monitors share trends and common learnings, some conversation, intro second topic. |
| 1:15 | Small-Group: Talk about similarities with other groups, discuss the second topic. |
| 1:45 | BREAK and hangout chat |
| 1:55 | Large Group: Gather back, share common learnings from the second session, intro the third topic. |
| 2:05 | Small-Group: Talk about similarities with other groups, discuss the third topic, establish action items and prioritization. |
| 2:50 | Large Group: Appreciation for common work, approval of follow-up process, Q&A |
| 3:00 | Closing Prayer and Dismissal (leaders stay for brief evaluation) |
Yes, all those are vague because you can decide what your goals are for a retreat, but this tested outline is yours to adapt!
Your Turn
Whew. Thank you to the leadership of my local church that helped craft this retreat and accepted their pastors' crazy ideas for it!
So, here's the encouragement for you, dear ministry leader: Visioning can lead to novel directions for your local church or ministry. Leaders should not be afraid of practicing visioning so that the Spirit can move through your congregation. Deferral of Visioning until gatherings can safely take place defers the movement of the Spirit during a time when creative transformation can more easily take place. So get visioning and don't let the technology get in the way: let it help!
Thoughts?
Thanks for reading, commenting, subscribing, and sharing on social media.