Series Introduction: Last year a large number of former students and professors of Asbury Theological Seminary signed a letter urging Asbury leadership to repent of their treatment of LGBTQ+ students and the ways in which Asbury has supported the discriminatory treatment of LGBTQ+ people in the United Methodist Church.
Alongside that effort, a group of former students/professors are now sharing their stories of how they have individually journeyed to the affirmation of LGBTQ+ people. Each week during the next couple of months, one person will share their story as part of the project, Journeys to Affirmation.
These are their stories, shared each Tuesday.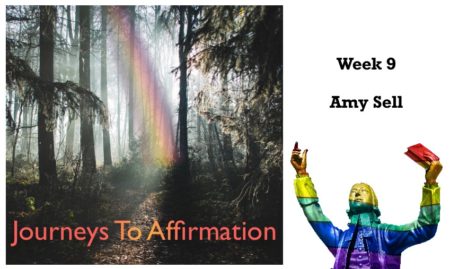 This Little Light of Mine
Amy Sell
This little light of mine. I'm gonna let it shine. This little light of mine. I'm gonna let it shine. This little light of mine, I'm gonna let it shine, let is shine, let it shine, let it shine.
I learned that song when I was a little girl. As you might imagine, having grown up in the church, a lot of my early theology was formed by Sunday school songs. The kids I work with can tell you that I am still a huge fan of Sunday school songs…Jesus Loves Me, Father Abraham, Zacheaus, I've Got the Joy, Joy, Joy, Joy Down in My heart, Rise and Shine, and This is the Day. These songs told me about God's great love for me as well as how to live. So you can hear my early theology…Jesus loves me, especially when my light shines, I give God glory and rejoice in the day I have.
I grew up on a farm in northwestern Indiana. I was loved by my parents, siblings, grandparents. I also always felt loved by my church family, teachers, and coaches. I was at youth group every Sunday and spent more time with my youth leaders than I did at home. I had many important adults in my life that cared for me.
I always knew I was a little bit different from the rest of my friends. However, I vividly remember the day that I learned I was "really" different. That was the same day when as a fifth grader, at Catholic school, I learned from the sixth graders, that I was an abomination. Though I don't think that they were directly talking about me, it sure did feel like it.
Abomination is a pretty big word, but it has a really terrible definition. The one that stuck with me was "a feeling of hatred." It was stuck on me, really good. I did not feel the hatred from God, but rather this internal shame and self-hatred. The voice of the little girl who sang those Sunday school songs had been silenced.
Through high school and college, it was there, but so was God's love and the call I had received from God to a life of ordained ministry. I applied to Garrett Evangelical Seminary and Asbury Seminary. I was accepted to Garrett but turned them down, because they were too liberal for me. So, I packed the car and headed for Kentucky. I loved Asbury. I had some good friends. I enjoyed most of my classes. I enjoyed chapel services. I was instantly hooked on Ale-8. But, I hated Amy!
I came out as a lesbian- no, not really- I came out as "someone who struggled with homosexuality" in my second semester at Asbury. I was sure that coming out would help the inner angst I had, the hatred I had for myself. It did not. It only intensified. I was prayed over, anointed, had hands laid on me, and had the demons cast out of me. Nothing changed, except my anxiety level and the fear that something was wrong with me.
Toward the end of that semester, I was hospitalized for a suicide attempt; this was not my first and not my last attempt. I spent a week in the University of Kentucky Psychiatric Unit, and 4 months later, I would be back in the same unit for three weeks. When I got back to campus I had many meetings with all sorts of folks who were now interested in my well-being. In order to remain a student, I was forced to have therapy, see a psychiatrist and have other weekly meetings (aka: prayer groups) where the sole focus was on me overcoming my struggle with homosexuality.
This is when I met for the first time my new diagnosis: Bipolar. This diagnosis I carried with me for the next 12 years. I spent roughly 10 of those years living life and I don't remember it because I was overmedicated. I struggled to get out of bed I was so tired. I'm not sure how many times I fell asleep driving. I had a constant headache all the time. My parents didn't think they would ever have their daughter back. That they would never see another twinkle in my eyes. That I would never be the same carefree, laid back, and easygoing daughter.
I continued working with children and youth throughout all of this time. I served in mostly rural areas where being a lesbian would always be unacceptable. I was partly closeted in all of these ministry settings. I always let the senior pastor know so that they could fire me if needed. I spent a lot of time trying to reconcile my faith and sexuality and it always ended badly and usually with another suicide attempt. The more I tried to work "this stuff" out the more self-hatred I had. Here we are back at that abomination word. I have always known that God loves me. I did not doubt that much at all, but I did not love myself.
Six years ago and ten years after coming out, I went to my first Pride Parade, in Chicago. It is not an over exaggeration for me to say that it was a life-changing and transformative experience. I had never been in such a place where I was welcomed, loved, and affirmed for who I am. It was there that I was able to reconcile my faith and my sexuality. I saw churches and congregations affirm me. Just like God does! It was at this moment, the long process of becoming who God created me to be was finally making sense. I was becoming okay in my skin. I felt less shame; I loved myself in a new way. I loved others better too. When I returned home after that Pride weekend, my two decades of struggling with insomnia disappeared. Within a year, I was off all psychotropic medicine and before long I began feeling like myself.
I am in my 24th school year of ministry with children and youth, but I have to tell you that the last five years have been the most amazing of all of my time in ministry. I have many kiddos who have same-sex parents, kiddos who have come out as LGBTQIA, and most importantly, the church where I do ministry is getting all of me. They are not getting most of Amy, but all of me. I don't have to hide this really important part of me. I can't tell you what a difference that has made in my ministry. At Asbury, we spent a lot of time talking about being authentic. When I tried to be authentic, it wasn't right. I didn't do it right. My authentic self was wrong. Today, authentic looks completely different, and I am really glad.
I resisted my call to ministry for a long time. I have settled—not in a bad way—for children and youth ministry for a long time. It has kept me doing what God has for me. One day, I hope that I can be a pastor of a church, that I can prepare sermons each week, that I can perform baptisms, weddings, funerals, do more than just serve communion. Some people ask me why I am not ordained already. For me, it is a matter of integrity. I'm a rule follower. I have never felt comfortable taking a vow before God, my family, friends, and colleagues, and then breaking that vow somehow. I recently took a vow between God, the woman I love, and before our families and our friends. I often consider which one of these two vows are more important. For me it is simple, I will choose the woman I love, because I know that God is faithful and led me into ministry and has a place for the two of us to serve. We are so happy to serve together where we are!
As I look at where the United Methodist denomination is right now, in this moment leading up to GC2020, I am so glad I am not ordained. I can use the gifts God has given me at North Church Indy or I can walk away. I recently (like three weeks ago) realized that I am not as tied or wedded to the UMC as I once thought. I am more tied to my wife and being in a place where the two of us are safe, protected, and doing God's work together, even if it is outside of a formal ministry setting. It has been a long journey. I would not have been able to say the last two sentences aloud, but the voice that was taken away from me has returned.
Amy Sell is a 2006 graduate of Asbury Theological Seminary and is the Minister of Discipleship and Formation at North United Methodist Church in Indianapolis. She is awaiting the day when she can be ordained an elder in full connection.
About this series: Journeys to Affirmation is a group of people affiliated with Asbury Theological Seminary who are sharing their stories of how God's grace moved them from non-affirming to affirming of LGBTQ+ people. New stories weekly, click here for all entries in the series.
===
Your Turn
Thank you to these Asbury Theological Seminary students, alums, and staff who share their stories. Inspired to write your own? Contact the curator Bill Mefford @ Fig Tree Revolution.
Thoughts?
Thanks for reading, commenting, and sharing on social media.