I pastor a church in Seattle, Washington, less than 20 mile drive from a senior care facility in Kirkland where the coronavirus (COVID-19) has claimed a half-dozen lives as of March 3, 2020. There are now reports of actively contained COVID-19 infected individuals in Seattle less than a mile away as well.
Needless to say, there is cause for prayer, bereavement care, but also preparations for faith communities to continue to function amidst public health concerns–and indeed assist in the effort to contain this virus' spread. As a public service, this document was created to help churches decide how to respond before the virus reaches their ministry contexts.
On March 3rd 2020, The Well @ Queen Anne United Methodist Church brought together faith leaders in the Seattle downtown and suburbs to hear from King County Public Health officials. Here's what we learned, with further information provided at the King County Public Health here, which is of particular interest to faith communities at this time.
Please note the following is an interpretation and application of the presentation and Q&A for local churches by pastors, not written by the Public Health department. Contact them for direct assistance.
General Information
How does COVID-19 spread?
COVID-19 is transmitted by inhaling droplets from infected persons. It is more like the flu, not like measles, meaning it does not sit in the air, it settles in droplets. Though droplets can be airborne at outset, transmission occurs when those droplets you touch are inhaled or ingested. Droplets can rest with active viruses on durable surfaces for hours or days, depending on the surface and environment.
In short, the concerns are:
Immediate vicinity of COVID-19 infected persons where droplets from coughs or sneezes or breath can be inhaled by other people.
Droplets from sneezes or coughs from infected persons on surfaces.
Symptoms incubation period is 2-14 days, so if you think you might be affected, stay home for 14 days along with any immediate members of your family.
Who is vulnerable to COVID-19?
Mild symptoms present for 80% of the population that has been exposed. At this time (March 4, 2020), the best research and case history shows that people over 60 years of age and those with underlying medical issues are the most vulnerable. These are significant demographics in many of our faith communities!
Church Best Practices
The following is a summary and application of recommendations received by the Public Health department from King County, Washington. You can read up to date materials here. Note these are not restrictions placed on churches by the State, they are what a group of pastors has considered to recommend to their own churches.
Should Churches continue to have worship services?
YES, churches should continue to have worship services and gatherings of all sizes. At this time, public health departments are not recommending discontinuation of public gatherings.

BUT members of vulnerable groups (those over 60 years old and those with underlying medical conditions) should evaluate whether participating in group activities in an enclosed space is worth the risk of contracting COVID-19.

Churches should communicate directly with vulnerable populations their support and encouragement to skip church if they are feeling sick or feeling vulnerable to getting sick.
Should Churches Offer Holy Communion?
YES, BUT the common cup (intinction) is problematic because unclean fingers or breath droplets can get into the common liquid and potentially transmit or receive droplets of COVID-19. Even Catholic churches where the priest places the host on the person's tongue risks getting water droplets from breath on the priest's fingers, potentially infecting the succeeding folks. Additionally, putting bread cubes on trays and passing them down the aisles also allows for cross-contamination as people's hands reaching for the cubes are not clean.
INSTEAD churches should switch to individual cups that can be served without hand-to-hand transmission, meaning that receivers' hands should not touch cups other than their own. Church celebrants should practice how to hold the trays of individual cups.
Churches should take special care to disinfect tiny communion cups (they can be a pain – post your favorite way to clean them in the comments!) or to use single-use cups. If you go the latter route, consider paying a bit more money for compostable cups like these so you are better participants in creation care.
Finally, celebrants should consider wearing gloves. The Public Health official was not insistent that gloves must be worn, although she recommends that for food service. She allowed that a person with properly cleaned hands can offer bread safely as the communion host. But gloves would remove uncertainty, provided the celebrant keeps the gloves from cross-contamination.
See the next section for a recommended setup for cleaning hands before serving communion.
Should Churches offer Baptismal Remembrance fonts?
NO. Some churches have baptismal fonts at the entrance to the sanctuary or chapel so that congregants can dip their fingers in and place them on their foreheads to "remember their baptisms." Because this is a common liquid that more than one person uses, it can potentially transmit COVID-19 droplets, so it should not be used by vulnerable populations.
Baptisms themselves can be done without transmitting droplets as long as none of the participants are infected.
Should Churches pass the peace?
YES BUT NOT BY SHAKING HANDS. Public Health officials recommend a distance of 4-6 feet from person to person in an enclosed space. That reduces the potential for sneezed or coughed droplets to transmit to someone else. Passing the peace by shaking hands not only violates that personal proximity line, but also has unclean hands touching each other.
INSTEAD, my church practiced "elbow taps" where we tapped elbows rather than shaking hands (though this is discouraged by medical professionals in the comments below, as people sneeze or cough into the inside of their elbows, so tapping the outside seems too risky). Bishop Stanovsky of the Greater Northwest region of The United Methodist Church suggests the following:
Maybe suggest a new gesture of greeting, like folding your hands over your heart and then opening them palms out and down toward another person — in a sign of connection, rather than palms out and up, which might indicate separation.
Also, Wakanda Forever works just as well. 😉
Should Churches pass an offering plate?
NO, durable objects can retain droplets of active COVID-19 for hours or days, and certainly a few seconds while being passed down a pew or row of chairs. Even if ushers wiped them down with Chlorox wipes between each pew, the alcohol wouldn't have time to dry and it would still allow people to transmit germs down the row.
INSTEAD, I've seen churches (often in Africa or Brazil) that will sing and dance and place individual offerings in a stationary basket or plate. The people move, not the plates. Perhaps churches should consider a stationary placement of the offerings during, before, or after worship.
This would be a great time to set up online giving. And remind offering counters to not touch their face or mouth while counting, as the virus could still be active hours or a day later, depending on the environment.
Should Churches use hymnals?
YES, hymnals contain the words of the faith and encourage congregational singing. They should continue to be used.
BUT treat hymnals like doorknobs and disinfect your hands after use. Pick up the hymnal, sing the song or join in the liturgy, and then disinfect your hands before you touch your face or phone again.
Single-use bulletins are better than hymnals, but woefully a distant second due to environmental and congregational singing concerns. A better alternative is to project hymns on projectors/flatscreen TVs, rather than print more/longer bulletins and use more paper.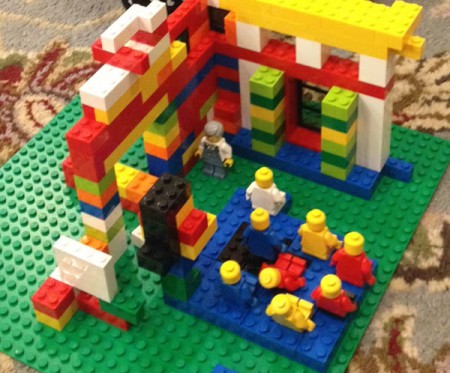 Church Environments
Here are some specific recommendations about church environments.
Setup for Communion Server Hand-Cleaning
Communion objects (plate, cups, etc) are disinfected and prepared with clean hands and food service best practices. But what about the servers themselves?
The Public Health Official said that room-temperature water with soap is more effective than hand sanitizer. They recommend the following setup for sanitizing the hands of communion servers and priests and celebrants:
A pitcher and basin (or an athletic event water dispenser with basin) to wet hands and to rinse soapy hands.
A soap dispenser, which the participants wash their hands for at least 20 seconds (two times through "Happy Birthday" or two verses of "Baby Shark" or the chorus of "Billie Jean" by Michael Jackson or "No Scrubs" by TLC are also acceptable…just not out loud on the altar)
Paper towels thrown in a trash, and then celebrant doesn't touch face or other durable objects other than the communion items.
A whole team of servers can get this done in about 2 minutes, perhaps during a hymn or a liturgy led by a non-celebrant. It doesn't have to add time to the worship service, but doing it in front of everyone will reassure people.
Cleaning
Bleach is recommended for disinfecting durable surfaces. Anything that causes bubbles destroys COVID-19. "If it suds, it strips."
Children's toys and other durable surfaces in classrooms or nurseries should be disinfected often. Toys with fur or fabric (stuffed animals, etc) should not be used during this season of COVID-19 concerns.
Clean your phone after church at the same time you wash your hands. We touch our phones a LOT.
Food Service
For coffee hour food service or potlucks, tongs or spoons should be made available so that the actual food is not contaminated by fingers in the food, with resting areas outside of the food for those tongs or utensils. But before you sit down and consume, you should wash or disinfect your hands. Treat tongs like doorknobs: use them, but wash your hands afterwords. Here's more food service best practices and consider posting volunteers to assist guests with best practices too.
Multi-Use Spaces
Do thorough cleaning between between uses of a multi-use space. If this is impossible, consider removing as many durable objects as possible in multi-use spaces so there are fewer surface areas to clean.
Staff Policies and Telecommuting Possibilities
Church Staff should pre-emptively figure out how to accomplish as much of their jobs as possible remotely. Install remote desktop software with secure practices, put documents (securely) in the cloud via Dropbox or OneDrive or Google Drive. Human Resource church committees should set expectations of what they want staff to do in case of feeling sick, fear of getting sick, or a potential shutdown so that as much ministry coordination as possible can happen remotely.
Church's Call to Mission
"It's important for mental health to not shut churches down. We are the only place many people have for community. We have to balance mental health and social service with safety. We can do best practices instead of shutting down." Rev. Katie Ladd, The Well
What biblical parallel is there for this coronavirus concern?
In Mark 6:30-44, Jesus and the Disciples find themselves in an unexpected situation. The crowds they tried to get away from to go find solitude and a place to eat have followed them. Jesus teaches them, and then tasks the Disciples with feeding them. The Disciples feel bewildered by the unexpected command, and feel uneasy under the immense responsibility to care for these people. But Jesus tells them to bring what little food they have, and says it will be enough. The disciples organize the people into smaller groups of 50-100, distributed the food, and ended up feeding 5000 people with only a few loaves and dishes.
I believe the COVID-19 outbreak shows we are in the gap between the unexpected responsibility and the organizing to share with each other. It is a place of uncertainty, but knowing we are called to do something to share what we have can be a time of transformation and care for one another. Living in this gap between responsibility and an effective plan is a difficult place to be, but with Christ alongside us and Science informing us, it is possible.
Why should churches change their practices?
Churches are hesitant to change centuries-old practices, especially around rote rituals like Holy Communion. But the mission should inform our expressions. Churches, even in dechurched areas, are place where communities gather. If viruses can be stopped from transmitting in houses of worship and faith communities, then the church is doing its part to protect its membership. Community norming of sanitary procedures would benefit all of us. If we put into practice these things now, we can reduce its spread now and later.

If we ask people to stay home if sick or vulnerable, it minimizes risk. If we ask people to wash hands, it minimizes risk.

Even though the virus stops with us, the mission continues to be transmitted. That's our call to mission in times of contagion.
Your Turn
Update: If your church is closed due to coronavirus concerns, but you still want to livestream a worship service or sermon, here's how we created this option in 3 days time.
If there is advice above that does not agree with your informed opinions, please comment below and provide evidence (in the forms of public statements by public health departments or hospitals) that back up your opinion. Only substantiated concerns will be used to revise this document. 
Thoughts?
Thanks for reading, commenting, and sharing on social media. You have permission to share or reprint it with attribution.