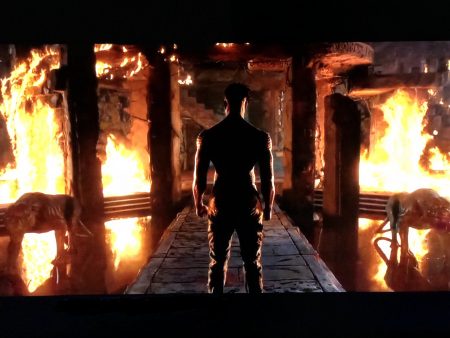 In 2018's Marvel movie Black Panther, the antagonist Killmonger seized the throne of Wakanda and received the superhuman abilities of Black Panther. He then burns the grove of plants that for centuries have given Black Panther kings their strength. Killmonger believes this burning away of an irreplaceable resource ensures that there will never be a challenger to his reign (even though one heart-shaped plant is saved, which sets up the final cinematic confrontation between Killmonger and T'Challa).
This scene serves as a helpful illustration of the primary motivator of the Traditionalist Plan…Rage. Rage felt against a particular segment of United Methodism, a rage that burns away that which makes United Methodism unique in an attempt to wipe that segment off the rolls of the Church.
The Plan, part 1:
Heightened Restrictions
The Traditionalist Plan was never fully developed by the Commission on the Way Forward and instead was prepared by a few members of the Council of Bishops. Only 9 out of 32 "A Way Forward" participants supported it in the end. But it has the most potential for disruption of United Methodism as we know it, and influential people rich in resources are supporting it.
If adopted as currently written, this plan would not only strengthen anti-LGBTQ provisions presently included in the Book of Discipline; it would add new measures intended to ensure "greater accountability" and stricter enforcement at every level of the United Methodist Church.
The Traditionalist Plan broadens the definition of "a self-avowed, practicing homosexual" to include anyone living in the context of same-sex marriage or civil union, and any public statement (including social media) claiming an LGBTQ identity. It removes peer accountability from trial processes and ensures minimum sentences for particular LGBTQ-related offenses.
If your breath catches there, you'll need to sit down before you read the next section.
The Plan, part 2:
Heightened Punishments
One of the more controversial elements of the Traditionalist Plan is that it proposes "gracious accountability" for LGBTQ people and those who oppose current Church restrictions on same-sex marriage and ordination.
Before 2020 General Conference all annual conferences must certify in writing that they will uphold LGBTQ prohibitions. Failure to certify results in GCFA withholding funds to the conference and preventing the use of the Cross and Flame logo, and initiates negotiations on the annual conference becoming a separate denomination. Certifications are also required in regards to the Board of Ordained Ministry: Bishops must certify they nominated only persons upholding discipline; members of Board of Ordained Ministry must certify; Boards must certify they examined the sexuality of candidates.
In short, multiple levels of leadership of an annual conference must sign a statement saying they will uphold the heightened LGBTQ restrictions, or else they will lose their identity and funding as a United Methodist entity.
The Plan, part 3:
Manufactured Expulsion
The heightened restrictions and punishments are utilized to encourage the exit of clergy and congregations from The United Methodist Church. The Plan "helpfully" outlines a smooth path for churches and clergy seeking to exit United Methodism.
The container for these exiting churches are autonomous-affiliated or concordat bodies, i.e., self-governing churches that such persons are requested to join by surrendering their membership in the United Methodist Church. Here's our previous coverage of this concept. 50 local churches can leave to form a self-governing church once that church has a mission statement, Book of Discipline, and provisional leadership. Conferences must release these churches to the new autonomous conference without the usual payments under the Trust Clause. Clergy and bishops may transfer membership to this church. This provision becomes effective immediately upon adjournment of the 2019 General Conference.
While UMC structure is basically unchanged in the plan, it does result in one, two, or more new denominations, though only United Methodism (i.e. Traditionalists) retains ownership of the money, agencies, and institutions.
The Specifics
Here's a link to the full plan, starting on page 132. The Traditionalist plan is on section pages 55-57, then 63-84.
The following outline examines how the Plan affects each circle of United Methodism. This section was drawn from the legislation and prepared by a third party, with some local editing.
What happens to Local Churches?
No local church will be required to vote on anything. However, congregations that disagree with their annual conference decision to enforce the Discipline could vote to withdraw from the UMC or join a newly created autonomous-affiliated or concordat Church.
The planned, systematic expulsion of churches and conferences would result in higher apportionments as fewer churches would remain to share the apportionment burden.
What happens to Clergy?
Urges clergy not willing to support disciplinary provisions around same-sex marriage and ordination to leave United Methodism and join autonomous-affiliate or concordat Church.
Requires clergy found guilty of breaking current or future disciplinary provisions regarding the performance of same-sex marriages to surrender their credentials.
Mandates that any just resolution reached during a clergy complaint process must include a commitment not to repeat the offense.
What happens to Annual Conferences?
Directs annual conferences to certify that they will enforce current and future disciplinary provisions related to LGBTQ issues.
Encourages annual conferences with alternate views to the current Discipline to leave United Methodism and form autonomous-affiliated or concordat churches.
Stipulates that annual conferences that do not certify their compliance with the Discipline by 2021 will no longer receive UM funds or be allowed to use the UM name or logo.
What happens to Bishops?
Mandates that both active and retired bishops must certify that they will uphold disciplinary restrictions by 2021 or lose the ability to be compensated for their expenses by GCFA.
Encourages those who do not certify compliance to the heightened anti-LGBTQ restrictions to leave United Methodism and join an autonomous-affiliated or Concordat Church.
What happens to Central Conferences?
No Changes Anticipated, other than reduced funding available after churches unwilling to certify anti-LGBTQ doctrine leave The UMC.
What happens to the General Church?
No Changes Anticipated, other than reduced funding available after churches unwilling to certify anti-LGBTQ doctrine leave The UMC
One curious note
On page 64, churches can leave The UMC for any reason and only have to pay the unfunded pension liability. So we would see a massive exodus of megachurches who pay hundreds of thousands of dollars in apportionments each year, even if they support the new anti-LGBTQ doctrines. Money is money.
Hacking Christianity (HX) Perspective
The Traditionalist Plan is full of rage: it goes on for pages and pages of rage against bishops and forms a tight cage around them, believing the more they tighten their grip, the fewer Bishop Olivetos or Talberts will slip through their fingers. It's like the comments section on UMC Facebook groups became actual legislation. Little wonder as it was written by a small group of bishops after losing a vote against the One Church plan. Shame and rage are a lousy atmosphere for drafting legislation, but as we know from US politics, they are persuasive to particular groups of people.
Beyond the rhetoric and legalese, the method is straightforward: force the leadership of The UMC to sign faith statements disavowing the dignity of LGBTQ persons. If they don't, they will be forced out of United Methodism, and the Traditionalists will take over those leadership positions. Signing statements are presented as forms of control of bishops, clergy, and Boards of Ordained Ministry (pages 70-71), but the reality is they are used to remove people at the outset.
It is so fascinating how sex and money are intertwined in the Traditionalist Plan. The GCFA (money and finance people) becomes the enforcers of the new Traditionalist regime, turning a structure from mutual growth and support to enforcement and accountability. Any deviance and you are expelled, with no money coming from GCFA (which controls episcopal funds and many others), forcing churches and conferences to tear off the Cross and Flames from their buildings (page 71).
In closing, the Traditionalist Plan is less a Vision for United Methodism than it is a reaction to LGBTQ inclusion. The rage-induced flailing combines Inquisition, coerced Loyalty Pledge to a discrimination regime, Enforcement, Purge, and an extra dose of Schism into a toxic proposal for United Methodism.
The rage has a purpose. The purpose of the Traditionalist plan isn't to find a just resolution to the tension over LGBTQ inclusion in The United Methodist Church. It is to remove progressives and moderates and young evangelicals from leadership, gerrymandering the slim 55% Traditionalist majority into an unbreakable majority at every level of The United Methodist Church.
All of which will take place if the GC2019 delegates choose Rage over reasonable realignment, Fury over the future with hope, and Fire burning the unique combination of United Methodism into ashes, scattered to the winds to keep any phoenix Spirit from arising.
May God have mercy on The United Methodist Church and guide us to a better future. The choice is yours.
Your Turn
Whew. Thoughts?
Thanks for reading, commenting, and sharing on social media.