The election of an openly lesbian Bishop in The United Methodist Church is a necessary step to a fully inclusive UMC.
Laying Down Our Body
I'm a cryer. I cry at commercials sometimes. But I hadn't planned on crying at Jurisdictional Conference of the Western part of United Methodism and its plethora of historic moments.
Rev. Siosifa Hingano was the first Tongan candidate for Bishop in The United Methodist Church. Before the 8th ballot for Bishop, Rev. Sifa (his preferred name) withdrew in a passionate speech where he said the following (starting at 1:38:00, or on Facebook:
"Am I willing to lay down my life for a very small member of the body of Christ?"

There's a family dispute. My son is a delegate also and he supports someone else [for the episcopacy] not me.

I see myself as someone who is standing between two doors. One door you say is open, but I can tell you it is open, but not too wide for us from the Pacific Islands, we can't fit. We need it a little bit open wider. I'm willing to lay it down my life, my body, to hold the door so some people can walk free.

On the other side of the door are my people who close doors to themselves. And I am willing to kick the door, and I pray that my people will open their minds. I pray my son, and other LGBTQ people, will walk freely on the bridge that I lay down my life to a wide door where people with open hearts will welcome them.

I have a dream for the future that my son will walk freely in that room.
A Call for The UMC
I find Rev. Sifa's image an apt metaphor for the Western Jurisdiction of The United Methodist Church in particular.
On one side, we have people who say "the door is open" to LGBTQ people in The UMC, but it's too narrow. LGBTQ people do not actually fit all the way through. They need it open a little wider.
On the other side, we have people outside the church who say that there's nothing within the Church for LGBTQ people, and we need to even enter the doorway to do good in the world.
Our call is to lay down our bodies between the two doors to prop them open, to allow people inside and outside the church to walk freely in the full knowledge that LGBTQ persons are loved by God, are called to serve God at all levels of the church, and are transforming the world.
The West, in particular, is choosing to lay down our bodies. To be trampled on by the rest of The UMC. To be humiliated, hamstrung, and harmed by policies, speeches, and practices.
We are laying down our bodies, submitting to the discipline of the Church, in order to wedge open these doors with our very bodies and transform the world.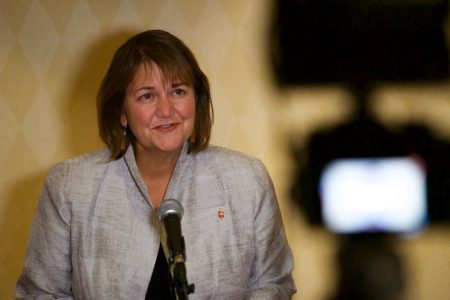 The Election of a Gay Bishop
 It almost seems "well, duh" then that the end result of the process was the election of Rev. Dr. Karen Oliveto as our bishop.
On the 17th ballot, the Western Jurisdiction of The United Methodist Church elected Rev. Dr. Karen Oliveto as a Bishop. Oliveto is the first bishop elected whose non-straight orientation was known before election. Oliveto is the Senior Pastor of Glide Memorial Church in San Francisco, California. There were 9 candidates for one episcopal position.
Most Annual Conferences in the Western Jurisdiction passed resolutions that said sexual orientation should not be a consideration for qualifications to be bishop. The 2012 Discipline only indicates that "Elders in good standing" are eligible to be Bishop, and many Annual Conferences interpreted that as not a bar to sexual orientation. All of the episcopal candidates in the West are in good standing.
While there will be legal and judicial challenges to this decision, the Book of Discipline is quite clear that Bishop Oliveto was both qualified to be elected, and the Western Jurisdiction was able to choose her. I'll keep you informed.
A Church for all our daughters
If I can be self-focused for a moment, I was quoted in the UMNS coverage by Kathy Gilbert with this statement:
The social media messages in the last few days have been full of fear, said the Rev. Jeremy Smith, Minister of Discipleship at First United Methodist Church, Portland, Oregon.

"All I have heard today are messages full of hope. I have two girls under the age of 4 and I am excited they will grow up in (a) United Methodist Church that tells them whatever they are, they can follow God's call at every level of our beloved church," Smith said.
I believe that to be true.
I was born into a United Methodist Church that discriminated against LGBTQ people.
So were my young daughters.
May they not grow up in one.
And today, I can introduce them to a LGBTQ bishop, so they will grow up knowing that no matter who they love, they can follow God's call at every level of The United Methodist Church.
Thoughts?