The first vote on the Rules, including Rule 44, will indicate whether General Conference will be more of the same, or have the potential for something new.
First out of the gate
People have been asking me what I predict will happen for General Conference. And I keep to the only answer I know is true: we'll know how the 10 days of Conference will go within the first 24 hours.
Within the first 24 hours of General Conference's opening worship, possibly by the end of the first day, the General Conference will approve the Rules of General Conference. The Rules are the guidelines and "if this, then that" of General Conference that govern how our processes will operate. It's the method to the madness!
All delegates have the proposed rules already in their advance legislation packets, and after they are presented on Day One's afternoon, delegates can make amendments or just vote it up or down. There's some legislative oddities as the Rules Committee doesn't actually have to abide by the amendments offered but can choose to not integrate them into their next presentation of the Rules on the morning of Day Two. But for the most part, approving the Rules is the first major act of General Conference.
So why are the Rules so controversial this year, and why is it so descriptive of what will happen at General Conference?
The First Vote – Rule 44
All the rage this year has been Rule number 44, the alternative group discernment process that has been proposed by the 2016 General Conference leadership after the 2012 General Conference requested a different method for having difficult conversations. And the prevailing push now is to deny the will of General Conference 2012 and not allow the alternative process to be applied to a small group of legislation (less than 60 items out of 1400), mostly dealing with human sexuality.
The rage has been that the power players in United Methodism, who have mastered Robert's Rules and will do anything in their power to maintain their proficiency, have run the narrative online by framing the Alternative Group Process as serpentine and a ploy.
We've covered previously this topic to a great extent, but after publishing it, I've been seeing this vote as the test as to whether General Conference 2016 will not only honor the wisdom of the 2012 conference, but also is willing to try something new to us (but tested in other denominations to great effect) that could bring us together once more as United Methodists.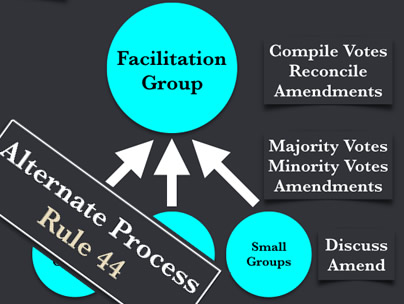 Beyond the Myths
There's many myths out there about Rule 44 and the alternative group discernment process, so let's get those out of the way:
Confidence in Conversation
There's one more point: opposition to Rule 44 shows a lack of confidence in one's convictions. If one's convictions come from God, that means they can overcome any human conflict, and would thrive no matter the situation:
If the conviction against LGBTQ clergy and same-gender marriages is strong and Spirit-filled, then it will endure no matter the format, and conservative-evangelicals should be confident in their convictions.
If the conviction for LGBTQ clergy and same-gender marriages is strong and Spirit-filled, then it will find root in conversations instead of speeches, and progressives should be confident in their collective experience.
If one's convictions have only been tested within a certain box, then clearly taking them out of that box and trying them in a different context is a scary process. I get that–dealing with the unknown is scary. But if one has confidence in their beliefs, then they should have confidence in expressing them no matter the context, and given Rule 44 is not that much different than a dinner conversation and strategy session, it should be both familiar and effective.
Persons of strong conviction in progressive and conservative perspectives should be confident in their ability to speak with conviction no matter the context–and they have nothing to fear from Rule 44.
I encourage us to try.
If Rule 44 does not pass, then we see that General Conference will be the same as previous years. There will be posturing instead of conversation. There will be grandstanding and protests instead of peaceful listening. The dead system will not allow the new one to live.
But if it does, then it opens a whole world of possibility that this General Conference might be different. That we might be in a 21st century form of Holy Conferencing that isn't a carbon copy of Wesley's (as Dr. Kevin Watson of Candler articulates – 1,2), but holier than we've had in years past.
As Rev. Donna Pritchard, Senior Pastor of First UMC, Portland, reflects in an article in Portland's local paper:
[Donna is] hoping this year's General Conference will forgo protests to focus on consensus building. She wants delegates to first discuss the issue in small groups of 20 or so people – to look each other in the eye and really hear each other – before bringing it to the main floor.

"Every four years people say terrible things to each other and the civility goes out the door," Donna said. "We have, traditionally, behaved rather badly. We need to get back to our roots as a faith-based organization and really listen for the promptings of the Holy Spirit in these conversations."
The First Vote
I'm not naive: I know not all will be sunshine and puppy dogs if Rule 44 passes.
All I'm claiming is that it indicates that General Conference is interested in trying something new and trusting their elected leaderships' fervent appeals to do what the 2012 General Conference charged them with doing: find a new way. If we are not willing to try it, then we not only deny the will of General Conference 2012, but that our own convictions can only stand when speaking alone, not in actual conversation.
Which sounds more like a Spirit-filled gathering to you?
Thanks for reading and your shares on social media.