This Christmas, I hope churches open up visitors to the breadth of theology around who Jesus can be for them.
What Christmas Means
There are two big claims that Christians uniquely make about Jesus Christ, and these christological claims coincide with the two biggest days of the Christian year:
Incarnation: God became known to humanity through becoming human in the form of Jesus Christ, which is celebrated on

Christmas

.
Atonement: God became known to humanity through dying on a Cross (

Good Friday

) and becoming resurrected to new life, which is celebrated on

Easter

.
During my decade of pastoral ministry in various churches, I've come to believe that both these claims are actually best celebrated on the same day: Christmas is about both incarnation and atonement. And if we do so, we avoid some serious theological pitfalls and experience the season of Christ's birth a little fuller than before.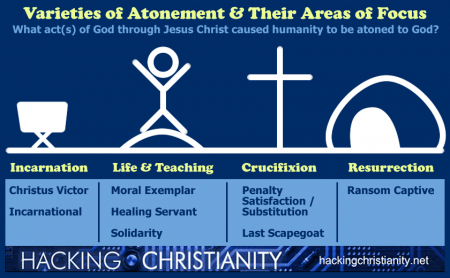 Mapping out Atonement Theories
I made the above graphic a few years back for my adult Sunday School class as they wrestled with what "atonement" meant. Here's the original post: "A Primer on Atonement Theories."
Briefly, the word atonement comes from sixteenth-century English and literally means at-one-ment. Atonement is the process of reconciliation between God and human beings (either on a communal or individual basis) with the goal of righting a wrong or injury, i.e. sin.
Christians contend that the life, death, and resurrection of Jesus of Nazareth is intimately related to this process. But not all agree on when this act of atonement happened.
The graphic encourages you to answer this question: what part of Jesus' life was most important in redeeming humanity?
God becoming human in the Incarnation (Christ's birth)
Jesus teaching and performing miracles (Life and Teaching)
Jesus dying on the cross (Crucifixion)
Jesus rising from the dead (Resurrection)
Based on your answer, you are able to see where you might want to study more on the Atonement chart. Click here to read about the chart options.
Atonement before the Cross?
One benefit of the chart is that it helps folks who have issues with atonement and redemptive violence on the cross. While cross-based atonement is absolutely a valid approach, I find fewer theological minefields in other understandings of atonement (and so do other folks in my United Methodist Church).
Briefly, why would a loving God use violence to draw humanity closer to God's self?  We can point to horror movies like Mel Gibson's The Passion, which seem to say that the more Jesus bled for us, the more He loved us.  That is a troubling theology that glorifies suffering, leaving abused women or children without the theological tools to say "the violence done to me is wrong." I cannot accept that God required violence, required suffering, for Jesus Christ to redeem humanity.
But hear the good news: if we go back to what the term means, atonement can be redeemed. We see that atonement does not have to be about death or suffering, but it must be about the reconciliation of the relationship between God and humanity. Atonement means turning humanity towards their original selves, created in the image of God. And Jesus was doing that long before he was on a Cross:
Atonement is the woman at the well who is brought closer to God through Jesus' insight into her life.
It is the woman who anoints Jesus' feet (or hair), and Jesus does not look down on her like the others.
It is the story of Jesus not only suffering on a cross, but suffering through his foolish disciples' deftness, holy men's lack of faith, women's persistence who confront him, and finally a disciple who betrays him.
It is Jesus who suffers willingly in life, not just in death, and joining others in their suffering.  Jesus suffers in his love for us. For me. For you.
If that is true, then the Cross is one inevitable step in that journey of presence. But the atoning power of Christ could have come long before the Cross.
Atonement through a Baby
What would happen if we moved the moment of atonement even further away from Jesus' death and towards Jesus' birth and life–towards the Christmas story itself? While that seems like a step towards Exemplary atonement, it's not quite a mere "Jesus showed us how to live" or "an example to live by" that even non-Christians can affirm.
Instead, an atonement focused on the Incarnation, on the belief that God became human, might say that in the sole act of becoming human, God atoned humanity and reconciled humanity to God's self. The re-creation of humanity into the community of God was not through suffering, violence, or death, but simply through God becoming human and living alongside us.
Do we do away then with the Cross?  By no means!  But we must look at the Cross on the mountaintop from the vantage point of seeing all of Christ's ministry alongside the suffering and marginalized of the world.  Redemption is found alongside suffering because Jesus knew humanity needed to know that where there is suffering, God is there with us.
And that is why I think Atonement needs to be discussed at Christmas as we discuss the Incarnation. If the incarnation is so important that it actually redeems humanity in the form of an 8 lb 6 oz baby Jesus, then the promise of Jesus' life and death is actually fulfilled in his birth.
A Call to Action
In conclusion, I find talking about atonement alongside Jesus' birth to be more compelling than wrapped up in his death. But it also spurs me to action and charity that coincides with the Christmas season.
I feel a call to action to live like Jesus in this sort of atonement that I don't feel as strongly in guilt-based Cross theologies. Maybe if we talk more about what Christ's life meant and refocus the locus of God's love to Christ's life rather than his death, then we might do away with problematic theologies of violence and suffering and instead give truly empowering theology to the people.
If we are atoned in the Incarnation, then wherever we go, we bear Christ with us. Christ no longer kept on the shelf in the Bible. Christ is Emmanuel, "God with Us," bearing in his body the way to reclaim the Imago Dei in each of us. May we live into that mystery as we live out our reconciliation every day with each person that we meet.
Thoughts?