Today, I say goodbye to companions of mine for the past 20 years.
An Origin Story
In 1995, I was in rural Oklahoma at a town library for a few hours while my dad did a job. I wandered through some of the aisles and found myself in the science fiction section. As a high schooler, I preferred comic books over real books, so I was looking for some graphic novels…when I happened upon a first edition of this book:
Heir to the Empire by Timothy Zahn. This was the first official continuation of the Star Wars movies, which I already loved. It told the story of what took place after the Battle of Endor, after the Empire had been routed and ran off from power (though still powerful). Why not give it a read?
I did. And the characters came alive for me in a way even the movie could never do. I could imagine Mara Jade (who would later become Luke Skywalker's spouse) and her sharp wit; I rooted for Grand Admiral Thrawn, a sympathetic villain; I wanted C'Baoth taken out like the megalomaniac Dark Jedi he was; I knew Talon Karrde tried to be bad but he was too good. I saw sides of the characters you don't see in the movies, and met new characters who intrigued me.
I poured into that library book that hot summer day and immediately bought the book upon returning home. It was the first of a trilogy, so two more books awaited by the time I was done with that one. And another series after that by a different author. Wow! A few years later, I went to a comic book convention where Zahn was there and he autographed my dog-eared paperback that I still have (he said "there are two types of books authors love to see: new books and well-worn books"):
Over the years the collection of "The Expanded Universe" (as it is known) grew and grew…as you can see in this 2012 photo. At one time in early 2000s, I had all the official canon (polishing my nerd cred):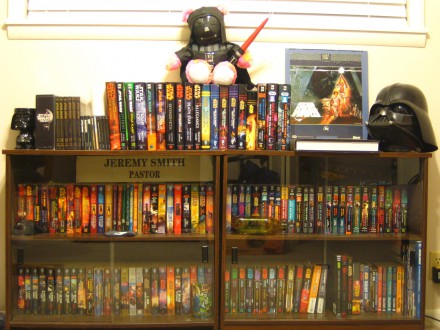 A clean break
And now…I say goodbye.
As part of George Lucas selling the Star Wars franchise to Disney, the books would then be at-odds with the future movies, including the one out this year. So in May 2014, all of the above books were declared to be "Star Wars Legends," and they would no longer be "canon" of how the Star Wars stories would be told anymore. Del Ray, the publisher, explained why:
Long ago, in a galaxy far, far away, a legend was born: The story of Luke Skywalker and his fellow heroes, Princess Leia and Han Solo. Three blockbuster movies introduced these characters and their stories to millions of people who embraced these tales and began to build upon them, as is done with myths everywhere. And thus novels, short stories, and comic books were published, expanding the Star Wars universe introduced in the original trilogy and later enhanced by the prequel movies and the animated TV series The Clone Wars. The enormous body of work that grew around the films and The Clone Wars came to be known as The Expanded Universe.

Now, as new movies, television shows, and books move into the realm of the official canon, The Expanded Universe must take its place firmly in the realm of legends. But, like all great legends, the fact that we can't prove the veracity of every detail doesn't make the stories any less entertaining or worthy of being read. These legends remain true to the spirit of Star Wars and in that way are another avenue through which we can get to know and understand our beloved heroes in that galaxy far, far away.
My stories that sustained me through formative years of my life…they are now myths, narratives, legends that didn't happen, but might have. I know they are fiction, I know they aren't real, but there's a sense of loss for me that there will be no more stories about Mara Jade, Corran Horn, Jaina and Jacen Solo, Vergere, Wedge, Janson, Tycho, Voort, Mace Windu, the Noghri…and the beloved Grand Admiral Thrawn. The canon has been set, the stories bookended, and I know all there is to know about these characters.
Like Jack forgetting Neverland, I am to live as if it never happened.
Turning the Page
As I write this, I have a new Star Wars book in front of me. Aftermath is the first story written that continues the new canon. There are other books published since Del Ray's announcement in 2014 which fill in the gaps between some movies, but Aftermath is the first one set after the Episodes 4-6, and sets the stage for Episode 7 due out in December 2015.
When I start reading this book, the stories I know become legends, echoes of a past that never happened. When I open it and read the first line, the old story full of worlds, heroes, villains, and ethical situations set in science fiction and fantasy…they are gone, replaced by a new vision of what happened "after" set not by George Lucas but by Disney's creative teams.
The epic myth that sticks with you, that stokes the heroic imagination that something can be done about the world around you, gets wiped clean and started anew.
Maybe this is what conversion is like. You have to let your old narrative fall away, and you live into a new narrative that supplants the old. You say goodbye to comfortable characters and hello to new unpredictable ones. You perhaps can hold the narrative in a new way because you are in a new place and time in life. It's exciting and disconcerting at the same time.
Book 1, Page 1
Here we go, Aftermath. Deep breath.
Page one:
"A long time ago in a galaxy far, far away…"
Indeed.