The Pope's encyclical on climate change and the terrorism in Charleston both reveal how humanity hasn't figured out what to do with the waste and the harmful by-products of our systems of life together.
Laudato Si: Life together is
unbalanced
Laudato Si is Pope Francis's second encyclical (official teaching) for the Roman Catholic Church, primarily focusing on the environment and human action to sustain or harm it.
One of the areas where most of humanity operates substantially differently than other ecosystems is in the areas of waste removal. We all consume energy in some form, be it food, fuel, water, or land. But unlike other ecosystems, we do not minimize our waste products. From the encyclical (para 22):
It is hard for us to accept that the way natural ecosystems work is exemplary: plants synthesize nutrients which feed herbivores; these in turn become food for carnivores, which produce significant quantities of organic waste which give rise to new generations of plants. But our industrial system, at the end of its cycle of production and consumption, has not developed the capacity to absorb and reuse waste and by-products.
Every healthy ecological system untouched by humans figures out what to do with its waste. The forests are the great carbon-scrubbers as they transform it into oxygen, but due to deforestation they are unable to keep up with human production of carbon, leading (as one factor among many) to climate change.
In short:
We have not yet managed to adopt a circular model of production capable of preserving resources for present and future generations, while limiting as much as possible the use of non-renewable resources, moderating their consumption, maximizing their efficient use, reusing and recycling them.
The miles of trash floating on the ocean, the tons of radioactive waste archived below ground, the polluted air that is trapped in a region…these are all examples of how humans haven't been good stewards of Creation (as Genesis calls us to be) because we haven't figured out what to do with our crap.
Other than Native Peoples or aboriginal populations who seem closest to living this circular model well, most of humanity has not figured out what to do with the waste from human lives, and much more work needs to be done to repurpose, renew, recycle, and minimize the amount of waste so that our human system can begin to reflect evolved natural systems better.
Charleston: Life together can be 
catastrophic
"The perpetrator was caught…but the killer is still at large."

– Reverend Dr. William Barber of the North Carolina NAACP (referencing the white terrorist attack in Charleston, South Carolina)
In Charleston, South Carolina, a man walked into a church, sat next to a room full of persons of color studying the Bible for an hour, and then massacred them, absolutely because of racism and purportedly because of fear of his minority (hopefully) worldview losing out against other worldviews.
We see that with every social movement towards rights for a minority group, those who oppose the rights rise in prominence and fall to the shadows.
The rise of the Ku Klux Klan in the 20th century as a loud voice against people of color, primarily African-Americans. They slowly got relegated to be unpopular by society, so their membership lists became private, their conventions shunned by politicians, and nowadays any affiliation is enough to discredit a person from public service (at least on the national level). But they still exist, relegated to the dark corners, and continue to fester. It is now no longer organizations that are popularly racist but individuals, played out (in one way) in policing policies and practices in recent months.
The efforts against LGBT equality began in restricting marriage and when that was won (hopefully nationally this week), it moved to religious objections regarding employment and health care benefits for same-gender spouses. Even though we are still in the thick of LGBT inclusion, especially in churches, the society's anti-equality voices have become quieter than they were in the 2000s as a politically-convenient wedge issue. Animosity has moved towards trans persons, especially young adults and youth, who have been killed or committed suicide as a result of discrimination.
Women's equality began with owning property, then voting, and continues today with job discrimination, equal pay, paid maternity leave, and a host of other issues. We see anti-women Christian beliefs being played out sometimes in public (Southern Baptist Convention and other denominations excluding women from leadership) and in private (nearly every religious sect or cult has a male-dominance mindset). The rape culture and objectification of women continues to be a source of violence against women in ways that has not progressed much since the Mad Men days.
Racism, sexism, homophobia, and other *isms are the byproducts of our human systems, toxic parts of humanity found wholly in some people and in part in others.
They are byproducts of our cultures, and every time we want to hide them, store them out of sight, relegate them to the shadows, they only get worse. They may affect fewer people directly, but the people they do, it is always violent and often murderous.
We cannot afford as a society to allow these toxic sentiments to have any trace amounts in a more just society–and so far, we've been able to monitor speech and overt *isms, but those are proxies to the real culprits that kill, demean, and terrorize people of difference to the perpetrators.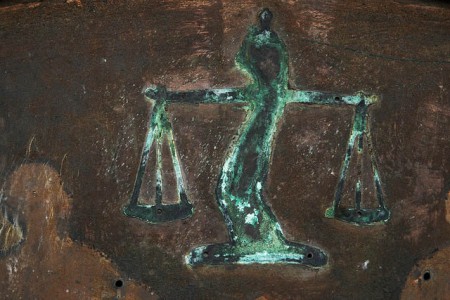 Getting rid of the waste
Most of Creation learns to live in parity with its environment. Humans have this original blessing as well–but we choose to live apart from it and apart from healthy systems of relationships with the natural and human worlds. We see this most with how we deal with the wasteful products that build and build until they threaten everything we hold dear.
We need a better system for dealing with our ecological and societal waste. For too long, we've been content to store away our waste out-of-sight in landfills and hidden chat rooms, and to export our unsold t-shirts and our homophobia to Africa. The feedback loops that reduce the polar ice caps are paralleled in how we cast the more conservative areas into the outer darkness and let the waste build and build there.
The waste comes from us. They come from our broken systems that reject our roles as stewards of creation and keepers of our brothers and sisters. They come from our communities that redline neighborhoods, refuse to offer gender-neutral bathrooms, and force underprivileged women to drive hours for reproductive care without condemnation.  And they come from each of us who lock our doors when a black male walks by our car, who make excuses when a woman is paid less than her male colleagues.
We need a better system to scrub out racism before it becomes ingrained and suffocates us.
We need a better human story to overcome the tribalism and other-ing of people different from our celebrated demographic.
And we need a better Church that refuses to let its advocacy be at the lowest level of engagement that consensus would allow.
And we need it now.
How long, O Lord? And if God is sending one of us to do this, is it me? Or is it you?