I often receive kind comments from strangers and friends who thank me for "wading into" religious debates online that feel intimidating to them. Here's my attempt to try to reframe and disarm the most intimidating of those interactions.
Disarming Internet Trolls series
| 1. Focus on the Arena | 2. Overflow the Honeypot | 3. Escalate to Community |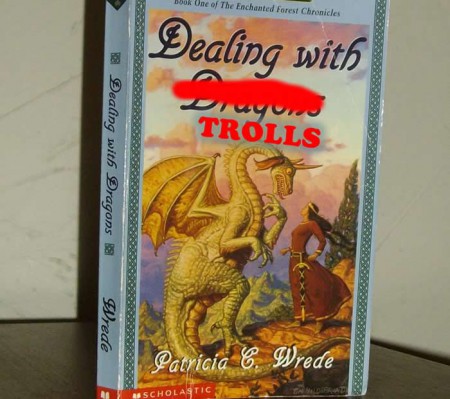 A Holistic Response
Human progress in technology often outpaces our social norms on how to use it. We can see today that the use of the Internet has some rough edges in the social sphere. One of those areas of significant harm is dealing with trolls. There's been many articles written about it but few are written from persons of faith who have encountered trolling in many different genres of interaction.
I am a person who has talked about religion via my first email account in middle school, AOL Instant Messenger in high school, with online gamers in college (seriously!), ran a semi-popular online religion forum in seminary, and now has a blog that is about to turn seven years old. I've also been a youth minister to adolescents who said hurtful things to act out, and a pastor to church bullies, including serving an after-pastor church.
Along the way, I've picked up three practices that help me disarm the trolling epidemic in religious circles.
Definition: Trolls or Trolling?
I'm actually rather sensitive to label someone as a troll, given that I was labeled as a "hater" by religious celebrity Jon Acuff. Nonetheless, such people do exist and discerning between a critic and a troll is a difficult task when one only has pixels and text to judge.
Patrick Scriven, Director of Communications for one of the regions of the United Methodist Church, defines trolls in this way:
The word 'troll' is used on the Internet to describe a person "who posts a deliberately provocative message with the intention of causing maximum disruption and argument." …When someone engages them, imagining that they are having a conversation, trolls will work to frustrate and provoke as they feed off of negative energy. Trolls aren't into [conversation or] "relationships."
There's the occasional story of people who redeem online trolls–these are the vast, vast minority. But is it really an "us and them" divide between trolls and people who know how to converse online in a helpful way?
I think the key answer is that "troll" is a verb, not a noun. Scriven again:
Part of the challenge in identifying trolls is that we've all been one, or at least exhibited troll-like behavior, at some point. There are times when our personal frustration with something causes us to ignore our better angels and we forget that getting ugly leaves little room for God's transformation of the other.
People are "trolling" when they are posting things that they know are antagonistic to the intent of the conversation without a desire for mutual betterment from the conversation itself. It's helpful to see this primarily acted out as a behavior of people rather than a category/box that we can put people in order to dismiss them.
 Consideration#1: Are They In the Arena?
"It is not the critic who counts; not the [one] who points out how the strong [person] stumbles, or where the doer of deeds could have done them better. The credit belongs to the [one] who is actually in the arena…" (Teddy Roosevelt – edited for inclusive language)
The first thing I do is decide if the person who is trolling is in the arena with me.
The term "troll" evokes the image of imaginary beings who live under bridges and grab at anyone that comes by. The important detail of that image is that trolls are not on the journey with you.
Brené Brown is a storyteller and researcher. In her video on engaging criticism, she says at about 8:45 minute mark:
If you aren't in the arena also getting your ass kicked, then I'm not interested in your feedback. If you are in the cheap seats, not putting yourself on the line, then I'm not interested in your feedback.
I find this to be really helpful–indeed, the whole video is excellent–because it is true in real life. I listen to other pastors more than I listen to the random twitter complaint. I absolutely listen to people who geek out on our mutual topics and poke holes in my interpretations.
The people who I don't listen to are people who may have other genres or conversations where they are in the arena, they are doing the work of ministry or geekery, but not in this one. It becomes easier to hold people's feedback differently when they are not actively in your arena. People who have been in the arena but retired or moved on can fall into either category, depending on how much they want to help those still in the arena.
Some practical recommendations:
Define your arena. What are the boundaries? Who do you consider to be in it? If we use the arena analogy, there is an opposing team, so persons who bring dissonance and challenge are necessary. However, hold their responses differently if they aren't in the arena with you.
Live out your ground rules. If you have particular values of discussion, make them known in how you respond. People have particular "voices" online and by establishing yours consistently, it is easier to draw in people who are in your arena.
In summary, we can hold feedback differently from trolls who are not in the arena with us. However, it is harder to dismiss people "trolling" within our social networks and online communities. By defining our arena and our own voices, it is easier to see who is worth your engagement and who is not.
Part Two…
Part two is coming tomorrow with reflections on being an activist online. For now:
What do you think about the definition of trolling?
Is it helpful or not helpful to hold the opinion of those in the arena differently than those who are not?
Discuss. Thanks for the comments and shares!