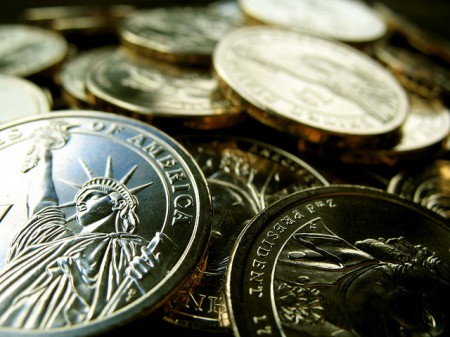 St. Mary's College is reported to be considering a proposal to link the pay of their President with that of their lowest full-time employee. The reason is twofold: to encourage the University to pay their lowest employees better, while also ensuring that executive pay and bonuses did not take too much from the non-profit institution:
Currently for St. Mary's, the ratio is 13-1 when comparing the president's salary to that of the college's lowest-paid employees. In this light, the proposal to cap the ratio at 10-1 is not as much a major cost-cutting effort as it is a push to further address questions of income inequality. The ratio at St. Mary's is already more reasonable than it is in many corporations or even at other universities ($441,000 was the median compensation for public-college presidents in 2011, according to the Chronicle for Higher Education). Still, those behind the initiative believe it could improve more — and that it's an important effort to keep the income gap from widening even further.
The St. Mary's proposal does more than just tie presidential pay to that of less well-compensated staff members. It also seeks to make sure all employees earn at least $29,976, which is 130 percent of the poverty level—enough to keep a family of four off food stamps.
Reading this story made me think: Could such a plan work for churches? As megachurches offer significant pastoral salaries (some so significant that they are not published) and even smaller large churches encroach on higher salaries, is there a way to ensure their salary system is equitable? Not to mention the need for every full-time church employee to be above the 130% of poverty line.
Turns out it has been done before. In 2006, the Church and Society Board of the Oklahoma region of the United Methodist Church offered up a "Just Wages" resolution that recommended just that. Here's the "call to action" part of their resolution but the full resolution (scroll to page 9) has the statistics and data:
The Oklahoma Conference of the United Methodist Church hereby resolves:

1. To support and strongly encourage churches and Conference agencies to champion a base living wage, excluding benefits, of $9.60 per hour (equivalent to an annual salary of $20,000) for all employees of the Church, whether contract, part-time, or full-time, within the next three years. (This figure is taken from the U.S. Department of Health and Human Services "2006 Poverty Guidelines," and applies to the wage needed for a family of four).

2. To support and strongly encourage that the maximum salary for the highest-paid employee/appointed person not exceed four times the lowest-paid full-time staff person (excluding benefits).

3. To exclude any existing employee/appointed person whose current salary already exceeds the formula established by this resolution.

4. Annually to request the Church and Society Commission to present to the Annual Conference any revised figure for the base living wage, based on the DHHS annual "Poverty Guidelines."
In this resolution of four times the lowest paid employee, one would see this effect only at churches where the pastor's base pay was above $80,000. In that case, the church could either raise the lowest-paid employee OR lower the salary of the pastor (although the resolution allows for grandfathered salaries–but when the pastor changes…BOOM!).
What do you think?
Do salary caps and floors offer a helpful framework for what a community could decide is a living and excessive wage?
Do salary caps and floors disempower churches of some quality senior pastors who may thumb their noses at a pay ceiling, or perhaps cause the HR Committee to split up jobs into more part-time positions in case the minimum wage becomes too high?
Thoughts? May we all seek justice in our wages, especially in the Church, and find a way for sacrifices and blessings to be shared in a just fashion.