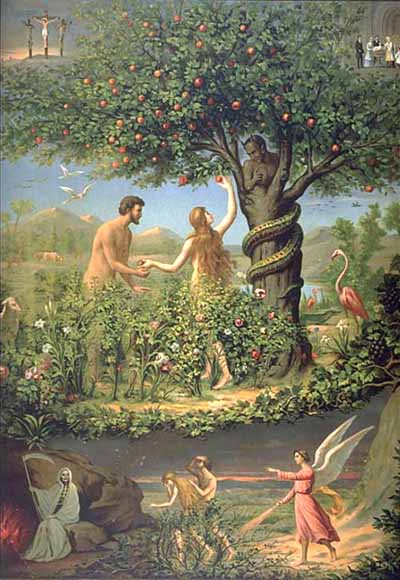 We often point to the story of Adam and Eve in Genesis 3 as The Fall or The Original Sin which explains a level of theodicy: how a benevolent God would make us live in our own personal hells.
It goes like this: God made the world good and we screwed up. God kicked us out of Eden in retribution for the original sin. Thus, we have to live in a mess of our own making. The God of Wrath was angered by our sin and kicked us out forever.
Have you ever noticed that's a lot of emphasis on what we did…and if biblical stories are anything like my hazy memories of being a perfect child, blamed for everything, guilty of nothing, then perhaps our actions as recorded are not reliable. Humans wrote the bible and perhaps our memories are a bit biased towards blaming snakes and women.
But this is not just human memory, it is the Old Testament: a testimony of a people's relationship with God. Have you ever read Genesis 3 and focused on what God did? Let's see:
God curses the snake (v.14) and the ground (v.17) but doesn't curse the humans. The humans are the ones who messed up, but God curses peripheral things. Humanity is untouched by God's curses and is given a huge portion of God's grace.
God closes off the Garden not out of spite or wrath, but out of care that they not be tempted by the other Tree of Life also (v.22). God removed temptation out of care, not removed everlasting life out of spite or wrath.

Sure, the original humans screwed up. I'm not some whitewashing liberal who discounts human accountability. But when I look for this God of Wrath that kicks humans out and curses us forever…I don't see it. In fact, I consider the evidence of God's goodness, grace, and love to be overwhelming against the traditional interpretation of God getting T-O'ed and kicking the kids out.
God of Wrath this isn't.
Indeed, there's a sort of sadness that is glossed over in the narrative:
God takes the first life in the world. God fashions "garments of skins" (v.21) to clothe the humans. This skin could only come from a dead animal. So God killed one of God's creation to provide for the humans.
What sadness must have filled God's presence to snuff out a beings' life that existed for only a few days after Creation!


God of Wrath this isn't. This is a God of Grace, who cares for the humans even as they see their actions hurt people (and animals) in ways they didn't expect.
Stories like this one are equal parts explanation of why things are the way they are and testimonies to the actions of God in the history of a people. We often point to human activity in these stories, but why not focus on God's actions? And God's actions are not angry but delicate, not spiteful but graceful, not condemning but articulating how the world will be much more difficult now but all is not cursed and irredeemable.
As we hack Christianity, we go back to the beginning, peel back the layers of tradition and history, and rediscover the God of Grace that has been there all along. Perhaps then it is when we also clothe the naked, when we also help those who toil on the cursed ground, when we also mourn the collateral damage from our sins…perhaps then we are closer to the God of Grace who still wanders in the garden alone.