The following quote struck a chord in me (hat tip: Patrick Appel on Andrew Sullivan):
I wonder whether our brains aren't becoming less like indexes and more like librarians. The situation isn't quite as Peter presents it: The key skill isn't knowing where to find information. It's knowing where to find where to find information. It's understanding connector terms and knowing the relative specialties of different search engines and finding the best aggregators and possessing ninja-level skills with Nexis.
One of the memories of my youth was Bible Challenges at our local church: races to see who could get to the Scripture in the bible that was called out. I was often the fastest page-turner and would win candy, I recall. Down the street at Rhema (a non-denominational church, I recall), my school friends would have Bible Challenges too, but they would recite bible verses from memory. No, I don't know if they won candy, but I do know they looked down on us lowly Methodists who were without a scripture (chapter AND verse) memorized.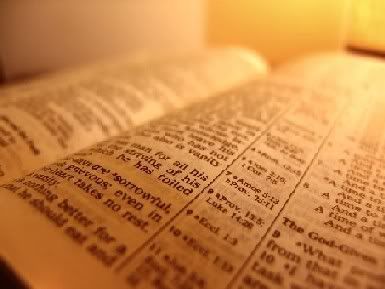 So this article makes me wonder if Scripture Memory is slowly being lost in the era of Google. As a pastor, I find my scripture memory advancing slower these days. I know why. If I need a verse I search for it rather than read the scripture until I find it. That lack of skimming hurts the scripture memory. In the same way, if I'm looking for resources or biblical help, I don't just crack a few books and read them. I also read a website, or the feed-reader. And any question people ask me, I can say "let me google that for you."
The worst thing for me now is Evernote, which I plug in all of my sermon illustrations, links, articles, bible studies, notes, etc into. I know that is where I can search to find an illustration. If I can't find it there, I know I can search other compendium websites that I haven't harvested their stuff yet. I've become a biblical librarian who knows where to find things, even if I don't remember them chapter-and-verse.
So if I ever get into a Bible Challenge today, it will be the same as my youth. I would trounce others that needed to look up passages, but I would lose to the RhemaKnights every time. But we would still have comparable biblical knowledge, and if presenting papers or sermons, we would be comparably well referenced.
I wonder if there are more biblical librarians like myself than there are biblical memorizers these days. And I wonder what effect that has on Christian discourse.
Thoughts?